Existing Scenario

1.Major crops and area.

2.Whether the above cropping pattern is market-based or tradition based?

3.Existing practice of
Storage


Grading


Package


Transport


Check post


Others
4.Marketing arrangements ie. Nearest market, products marketed facilities available etc.

5.Post harvest technology and value addition – adoption of measures like drying, storage at optimum temp. etc.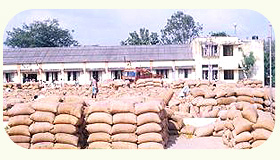 6.Quality control measures for the produce [For major crops] like grading, packing transport speedily etc.

7.Market intelligence –Market rates availability rates of produces at different market centres, periodicity.

8.Glut /Shortage experienced by the farmer month wise

9.Walk – through survey.

10.Farmers / Stakeholders perception for improvements
Cropping pattern (Diversification)


Transport


Grading of produce


Storage


Marketing – centres, facilities etc.


Marketing intelligence – rates of produces at different centres


Post harvest Technology


Value addition – drying, processing etc.


Primary options to WUAs.
11.
a)Market Identification
Local markets identified.

Market intelligence

Cell in marketing Directorate

Kiosk

Certification of products (standards)
b) Cropping choices
(Depending on water availability and marketability)



| | | |
| --- | --- | --- |
| Sl.NO | Existing | Proposed (including niche crops) |
| 1 | | |
| 2 | | |
| 3 | | |
c) Contract farming arrangements

d) Market transport
Improving selected market road links

Vehicles ie. goods auto, lorry
e) Pre –harvest
Facilitation of extension of pre harvest techniques like harvest at correct time etc.

Procurement and supply of quality seed material through seed village concept by TNAU.
f) Post harvest
Simple storage godowns

Simple solar cold storage

Solar driers

Small scale processing units ie. Groundnut decorticators
12. Furnishing the Detailed Estimates for all the Developmental components proposed, along with justification or capacity utilisation.
13. Integrating the marketing plan into the overall sub-basin plan of IAMWARM Project.

14. Approval, Implementation, monitoring the progress etc.

15. Future Vision
Quick and dependable transport from farm gate to market.

Pre and Post Harvest technologies transfer.

Storage/cold storage facilities.

Value addition / processing.

Market information System for making correct selling choices.